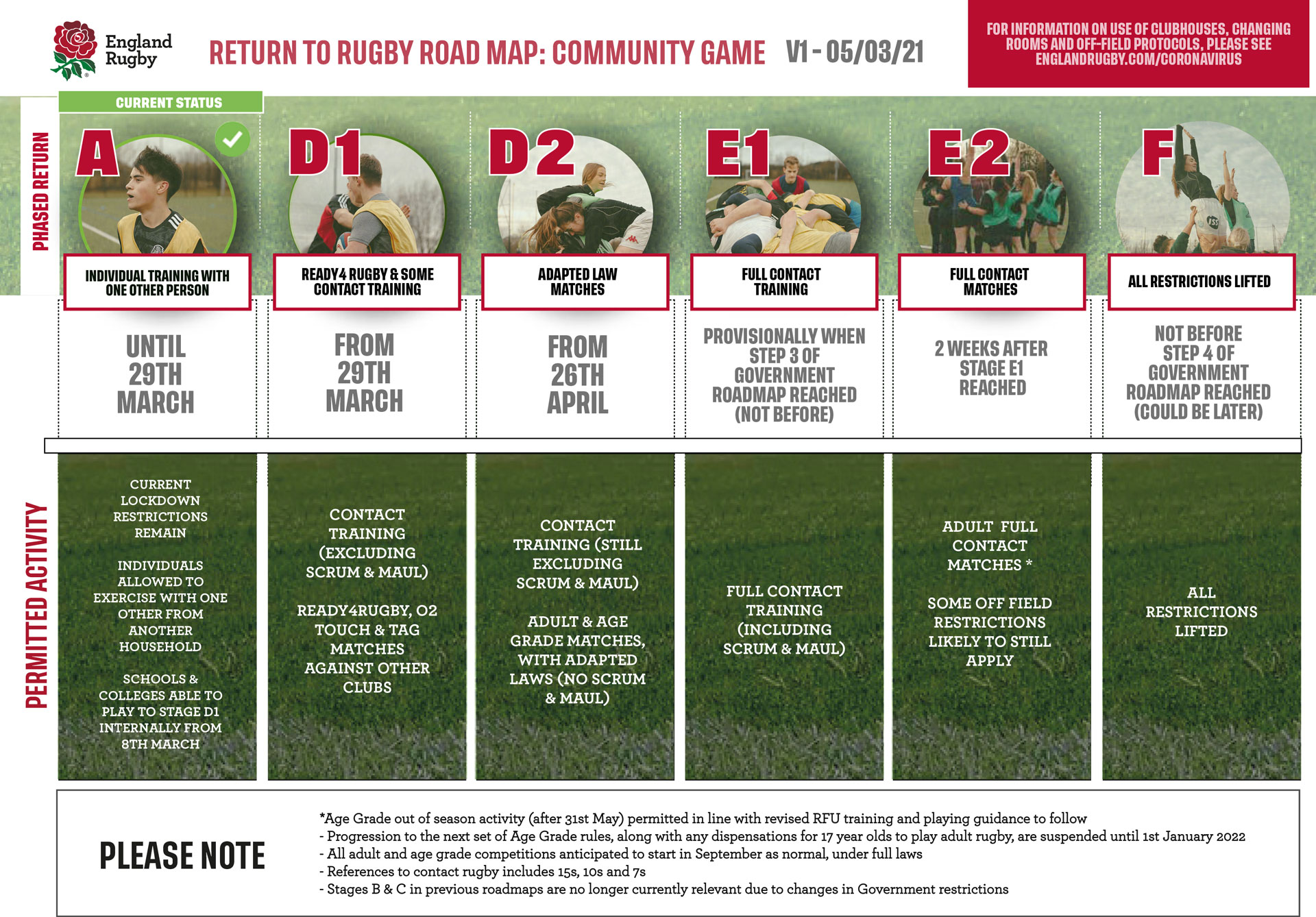 What does this mean?
Playing Rugby – All age groups Minis to Seniors
We are now able to play Ready4Rugby; 'a non-contact game enabling two teams of up to 10 players to engage in training and match activity'.
The purpose of this game is to reward the core elements of the rugby game; Go forward and support in both attack and defence
Develops player's core skills of catch, pass and support
Opportunities for players to make decisions related to the game of rugby
Adaptable dependant on the age and stage of players
Under 7's & Under 8's will continue to play under their current rules of play with the exemption of the tag belt tackle.
Touch Rugby (O2 Touch) can also re-start and we will update members very soon on the details of this.
Any skills type training warm-ups and warm-downs will still be conducted in socially distanced small player pods (maximum of 6).
As of the first of September we are also able to hold Touch / Rugby4Ready fixtures with other clubs, subject to appropriate risk assessments to ensure social distancing measures are adhered to.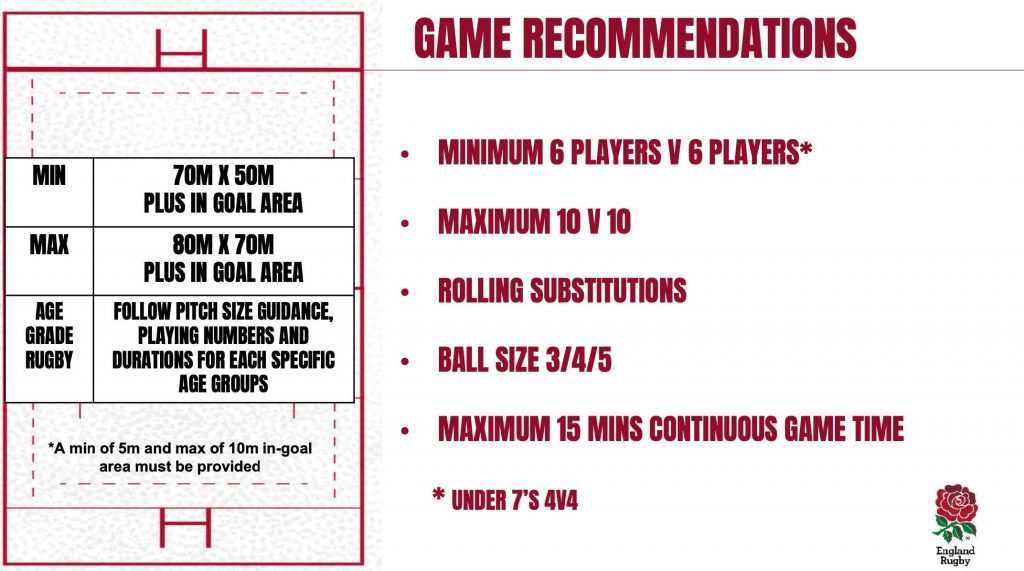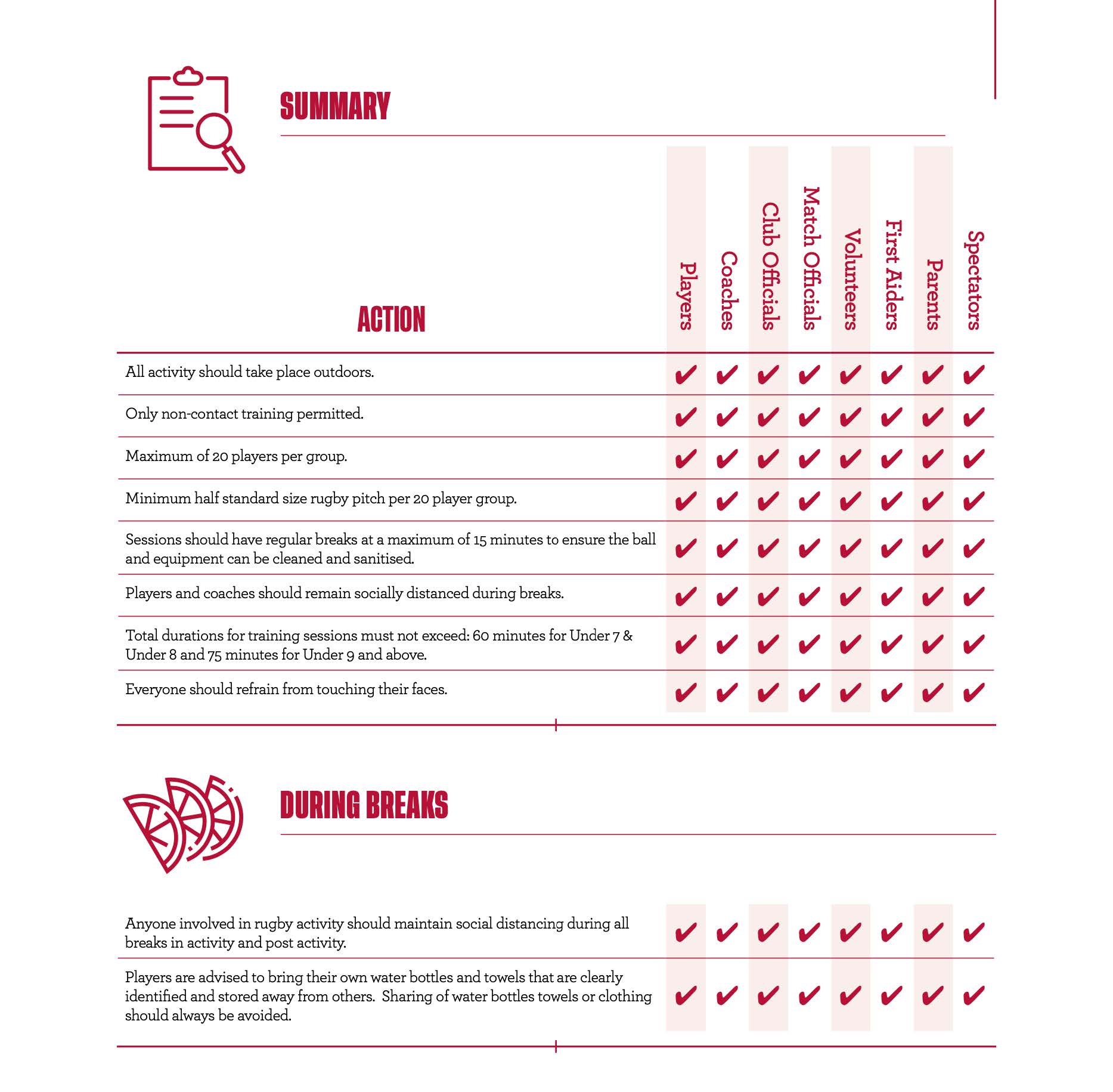 Adapted contact rugby activity U9's to Seniors
The reintroduction of contact activity is important to ensure players can continue to practice core skills and are able to start preparing and conditioning themselves appropriately as the game continues to progress back to normality with regular training and matches.
In Stage D a maximum 15 minutes (total duration) of adapted contact activities within a single training session is permitted. In the remainder of the training session, players are permitted to undertake socially distanced strength and conditioning activities, small group non-contact skill development practice and/or Touch/Ready4Rugby games (the only other permitted game training activity).
Please see the accompanying infographic: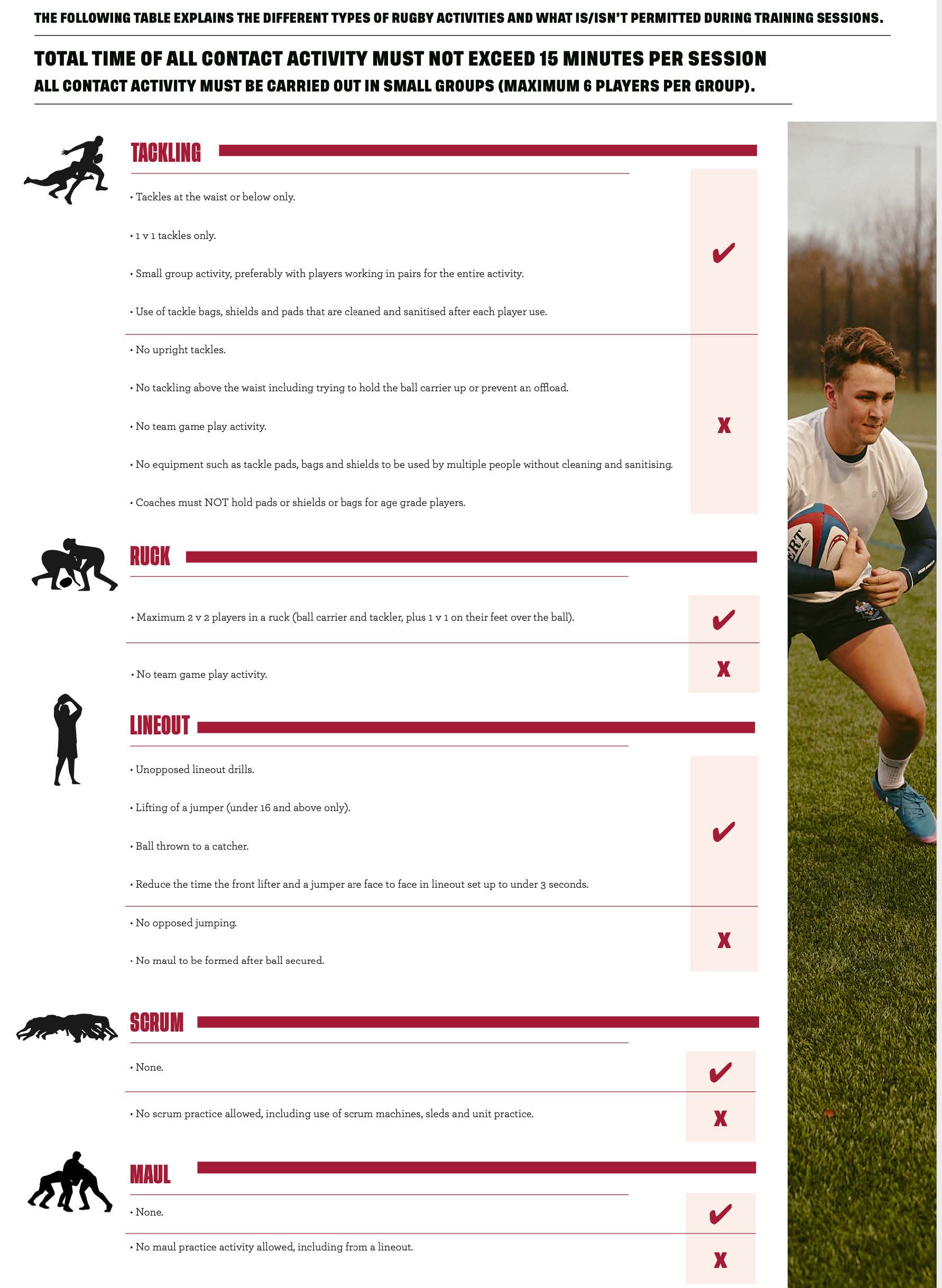 What everyone needs to know and do before visiting the club
It's really important that we all stick to government rules and NGB guidelines to ensure we minimize the risk of
spreading the Covid-19 virus.
If we all do the correct thing's we keep everyone in our community safe.
While every member is welcome, please do not feel pressured to return to the club and attend training, spectate, or socialize, if you feel uncomfortable for any reason.
Whether you are a Player, Parent/Guardian, Coach, Volunteer, or spectator attending a training session or match you will need to complete a Covid-19 symptom checker self assessment before each visit the club to ensure you are symptom free.
REQUIRED - Self Assessment Checker
Please use this link and compete within 12 hours before training or matches.
Attending the club
Age group managers will be communicating directly with their age group to share specific details about training
To manage numbers on site, training will be staggered
Re-opening of the bar will comply with social distancing guidelines, these details will be shared very soon
Membership Subscriptions
Please follow the link to pay your membership subs
Polite request
Please help our volunteers make this work by following all the rules and guidance we are required to follow
We have been reminded by the RFU that clubs found to be in breach of this guidance may face disciplinary action and/or invalidate their liability insurance.