EAGLES MINIS FESTIVAL 2020
Welcome to the 2020 Minis Festival
Effingham & Leatherhead RFC are hosting their annual Minis Rugby Festival on the 15th March 2020. Over 100 teams involved across the age groups from U7 to U11.
In addition, we are expanding and improving the Festival Hub, giving sponsors and attendees more interest and opportunity to engage. The food and catering is being boosted with involvement of professional catering leads; entertainment will be provided for the kids and non-players alike, and we are increasing our community engagement through the presence of local Scouting troops who will be there to assist.
Parking at the 2020 Minis Festival
As with all festivals we are constrained on car parking space, please therefore wherever possible ask people to car share. This will improve participation in the festival for everyone.
Please note all attending clubs must park in accordance the parking plan below.
Each club has been allocated a parking area based on expected number of visitors. The allocation has been made on the assumption that there will be 30% less cars than players, so please ensure parents are aware and arrange to car share.
Strictly no parking on Browns Lane
No parking is available at the club house without a permit. (Clubs with allocated parking away from the festival site will be allowed 1 parking space per age group at the club house).
Follow instructions given by ELRFC car parking marshals
Park within indicated areas
If parking on the festival site be very aware of children and other pedestrians
Do not park in residential developments or on corners
Please show consideration to avoid churning playing surfaces
Be respectful of local residents if parking in nearby streets
Colour
Club
Location
Access
Orange
ELRFC U8
ELRFC U7 (coming from Horsley)
St Lawrence School
Effingham Com. Road - Opposite Leewood Way
Sky Blue
ELRFC U10
ELRFC U7 (coming from Horsley)
Colets Piling
The Street, KT24 5JS off the roundabout
Yellow
ELRFC U7 (coming from Bookham)
ELRFC U9
ELRFC U11
Manor House School
Manor House Lane, KT23 4EN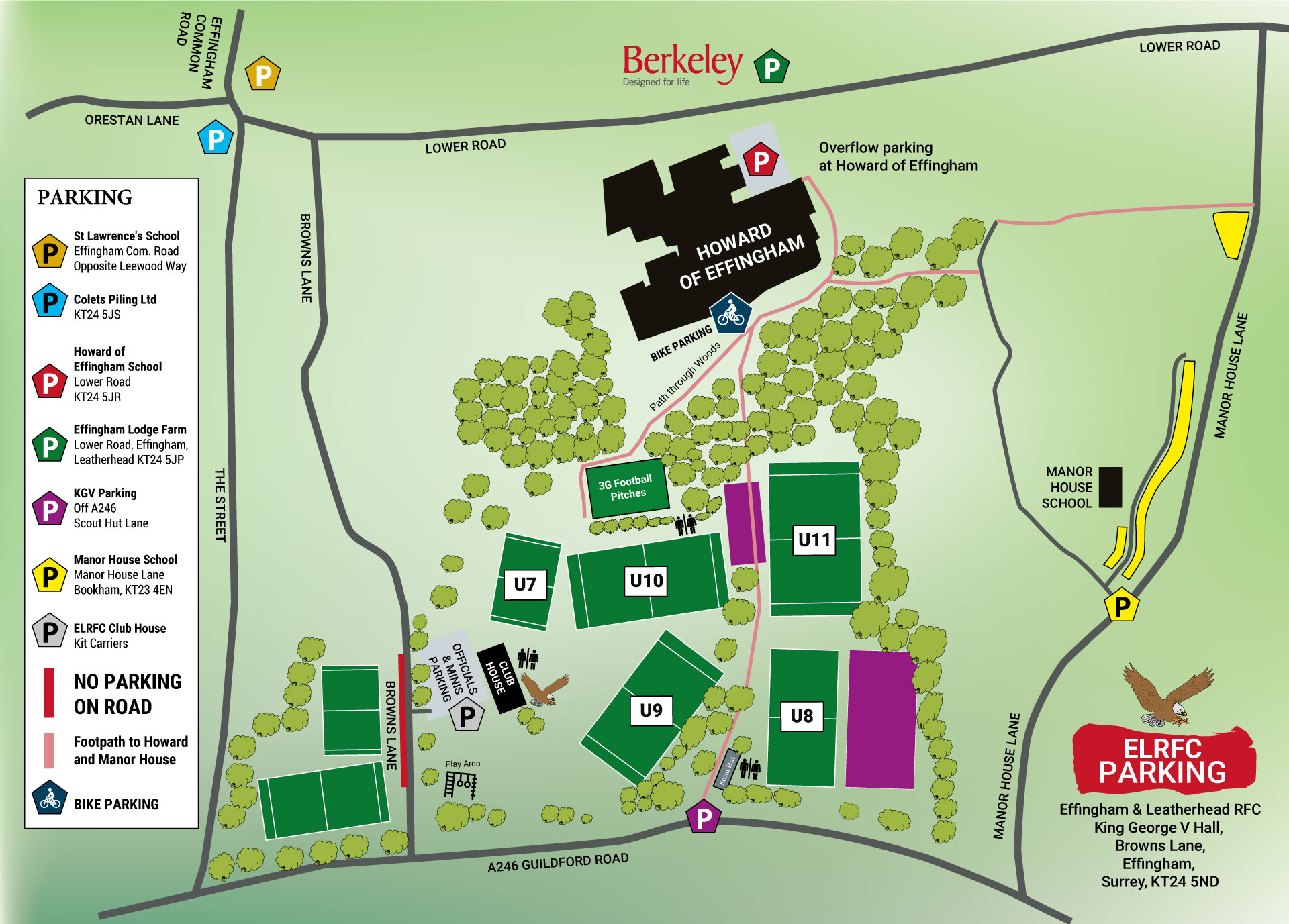 Along with Effingham and Leatherhead RFC the confirmed teams are as follows:-
THE FESTIVAL LAYOUT. (NOT TO SCALE)