EAGLES MINIS FESTIVAL 2023
For those unable to attend this wonderful event, save the date for next years Minis Festival: 21/04/2024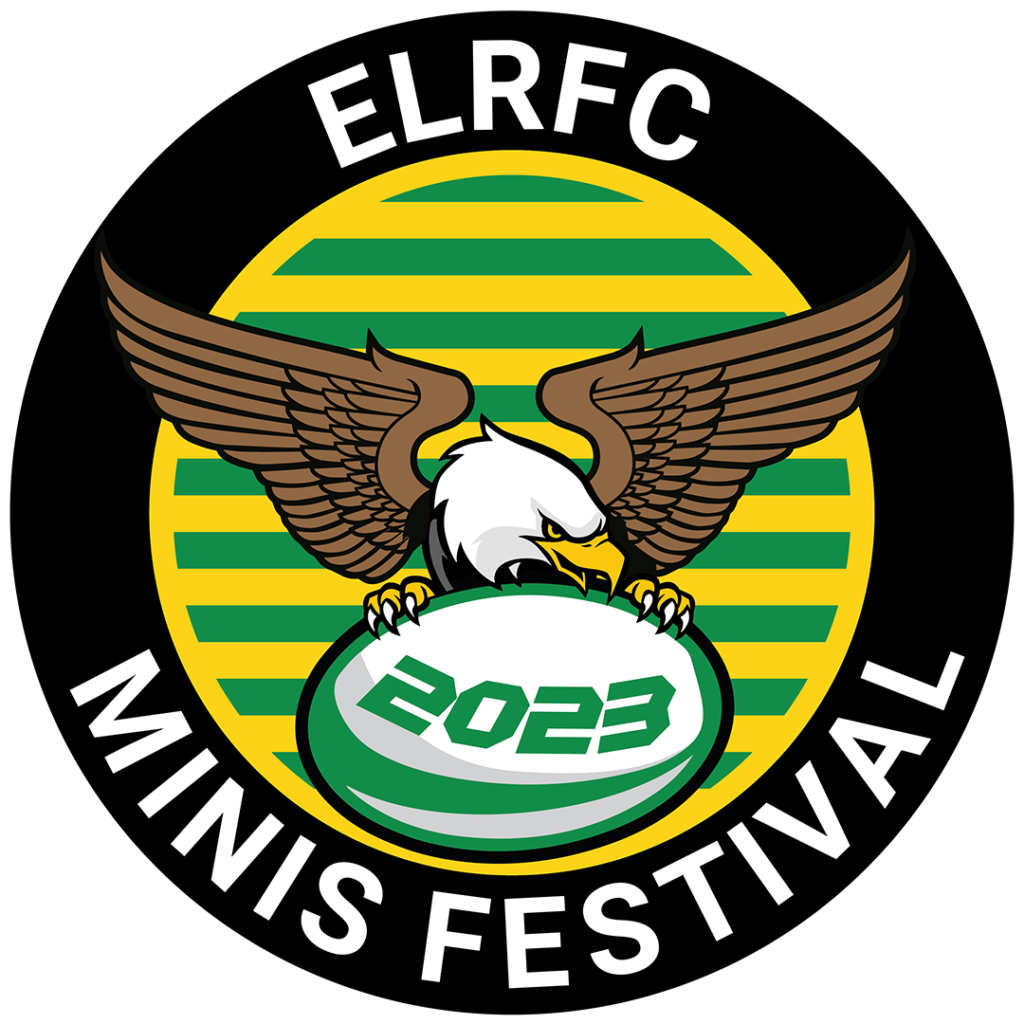 Welcome to the 2023 Minis Festival
Effingham & Leatherhead RFC are hosting their annual Minis Rugby Festival on the 23rd April 2023. Over 100 teams involved across the age groups from U7 to U11.
In addition, we are expanding and improving the Festival Hub, giving sponsors and attendees more interest and opportunity to engage. The food and catering is being boosted with involvement of professional catering leads; entertainment will be provided for the kids and non-players alike, and we are increasing our community engagement through the presence of local Scouting troops who will be there to assist.
Key Contacts:
FESTIVAL CO-ORDINATOR –
ANDREW SCATTERGOOD 07828 314915
FIRST AID CO-ORDINATOR –
PAULO COUTO 07899 756673
SAFE-GUARDING COORDINATOR –
ED HABGOOD 07484 830577
MATCH CO-ORDINATOR – 
SAM MARSHALL 07958 36 81 97
Festival Fixtures Schedule
Please have your Year Group Managers and Coaches sign up to the specific Whatsapp Groups below;
Could you ask them to identify the club they represent when they join so we know we have all clubs covered. Fixtures out on Friday 21st April 2023.
Parking at the 2023 Minis Festival
As with all festivals we are constrained on car parking space, please therefore wherever possible ask people to car share. This will improve participation in the festival for everyone.
Please note all attending clubs must park in accordance the parking plan below.
Each club has been allocated a parking area based on expected number of visitors. The allocation has been made on the assumption that there will be 30% less cars than players, so please ensure parents are aware and arrange to car share.
Strictly no parking on Browns Lane.
No parking is available at the club house without a permit. (Clubs with allocated parking away from the festival site will be allowed one parking space per age group at the club house (Grey) for those with equipment) – please only print one copy per age group per club, checks will be made on the car park entrance.
Follow instructions given by ELRFC car parking marshals.
Park within indicated areas.
If you block another car in, please leave your phone number on your dashboard.
If parking on the festival site be very aware of children and other pedestrians.
Do not park in residential developments or on corners.
Please show consideration to avoid churning playing surfaces.
Be respectful of local residents if parking in nearby streets.
Please note that off-site parking will be from 08:45 to 15:00 – gates will be locked at 15:00
St Lawrence's School
Colets Piling
Howard of Effingham School
KGV 1st Effingham Scouts
Manor House
Anyone staying after 3pm should move their car to on-site parking KGV (Grey)
Club
Location
Access
Effingham & Leatherhead RFC
Colets Piling Ltd Car Park
The Street, KT24 5JS off the roundabout
Effingham & Leatherhead RFC
St Lawrence Primary School
Effingham Common Road - Opp
Kingston RFC
Old Emanuel RFC
Manor House
Manorhouse Ln, KT23 4EN
Reeds RFC
Sutton and Epsom RFC
Weybridge Vandals RFC
Howard of Effingham School
Lower Road, KT24 5JR
Farnham RFC
Guildfordians RFC
Old Reigatians RFC
KGV 1st Effingham Scouts
Off A246, Scout Hut Lane, KT24 5NP
Kit Carriers ONLY (pass required)
KGV Main Car Park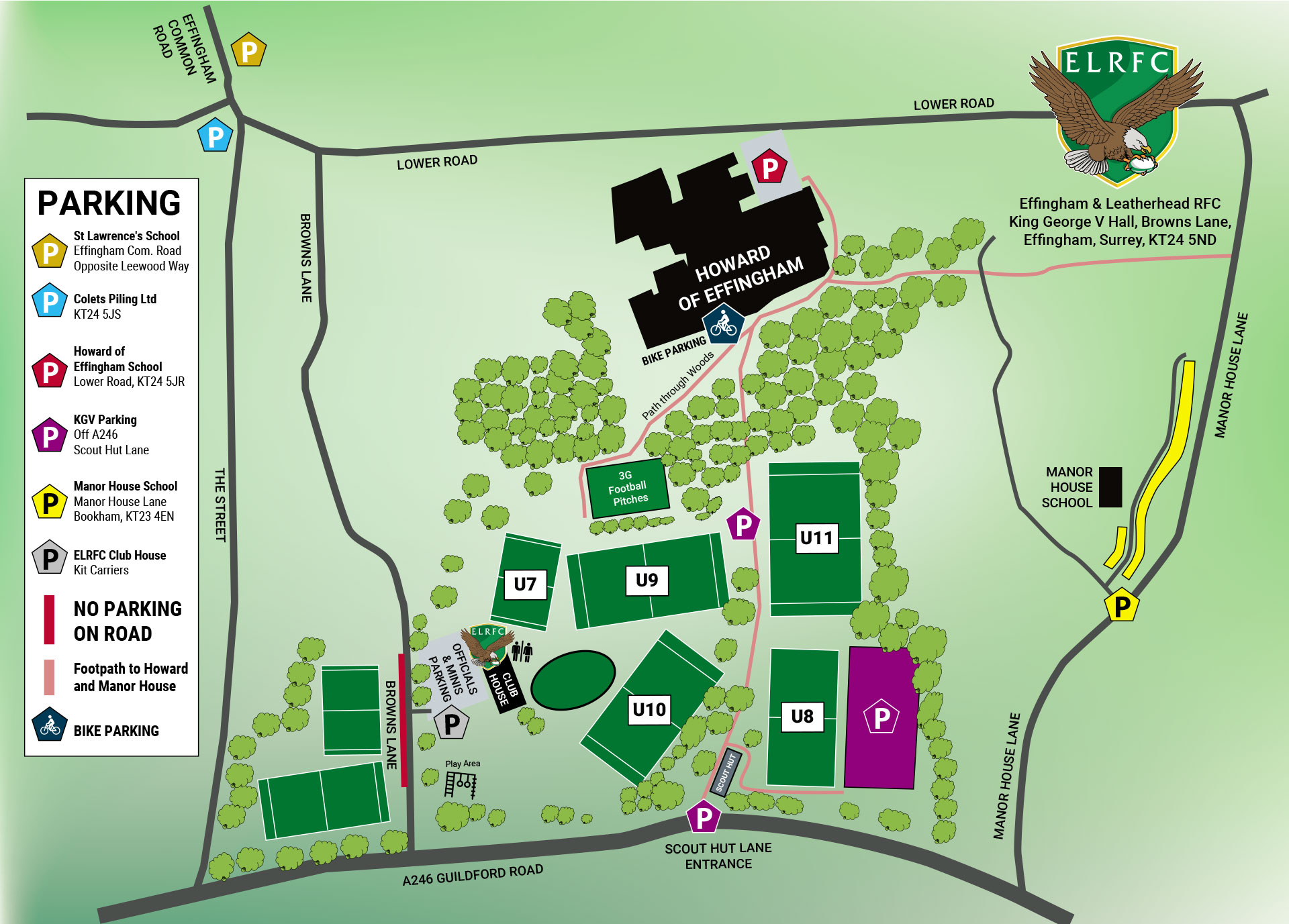 Along with Effingham and Leatherhead RFC the confirmed teams are as follows:-
THE FESTIVAL LAYOUT. (NOT TO SCALE)