Pre-season Match Report – 31st Aug '19
  Vs
Eagles – 52
Old Reigatian 2XV – 5
With a great pre-season under our belts, the Eagles played their first warm up match against Old Reigatians 2XV. With a mix of young and old, the game plan was to utilise what we had been working on so hard during pre-season and an opportunity to work our attacking patterns and a pressure defence. With Sam Manning captaining the Eagles, we were all pumped up and ready to go.
---
Scores:
Tries: George Stuttard (1), Joe Blunt (3), Rory Kaspian (2) , Matt Manning (1), Chris King (1)
Conversions: Sam Manning (6)
Team:
AJ Manning, C Blunt, J Schultes, S Manning, A Gardner, M Manning, J Hall, G Stuttard, P Couto, G Goodcliff, C King, R Kaspian, Amolak, J Blunt, Cameron, Alex
---
Full match report:
Straight from the first kick off, we played with speed, agility and aggression, working as one strong force. Pressure was on Old Reigatian and soon the first try was scored within 15 minutes with some great forward play, George Stuttard putting the first points Eagles way. The tempo and physicality was in favour of the Eagles, scoring again 5 minutes later with Rory Kaspian, Sam Manning kicking the extras. With some huge tackles going in from our 'young guns'; George Stuttard, Cameron and Amalok, providing go forward allowing some of the more experienced players front foot momentum to step up another gear. Quick thinking from Matt Manning scoring from a quickly taken penalty and driving over the line taking 3 or 4 opponents with him. Two more tries coming from Joe Blunt and Rory Kaspian, keeping the score ticking over until Half-time with the score at 0-26.
Second half started just as the first, with everyone ready to go another 40 minutes, eager to score more points.  With a few injuries occurring early in the half, the Eagles played with 13, never giving up at attack and defence. Charlie Blunt and Alex Gardner putting in a shift with some crunching tackles. Joe Blunt scoring his second of the day.
Great defence and communication held our opponents at bay for most of the match. A change in the flow of game started during an ill-disciplined 3rd quarter where Eagles gave away far to many penalties and allowed Old Reigatian to gain momentum. They managed to gain the overlap with some quick passing and score in the corner, missing the conversion. This change didn't last long with the Eagles coming back putting a few more scores on the score board. Starting with some great forward interplay between Alex Gardner, with a powerful hand off in the mid-field and linking with George Goodliff who provided a well timed offload to Chris King dotting down under the posts. The final score came with Joe Blunt scoring the last of the tries. End result 5-52.
"Great positives and so much more to work on" was the message from the Eagles coach, Dan Leek.
Thank you to Old Reigatian 2XV for hosting us and all the best for the season ahead.
Let's all get down to training and go again for another pre-season against Freemans at the nest.
Come and get behind the boys and show your support from the sidelines! #WeAreEagles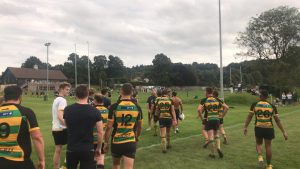 -Authors: P Couto/C King