Recap
Eagles 1st XV away to US Portsmouth
First match of the rugby season away to US Portsmouth on a glorious sunny Saturday, perfect conditions for rugby on a 4G pitch.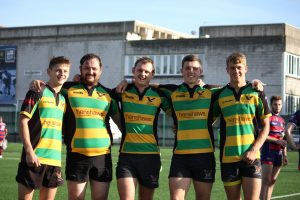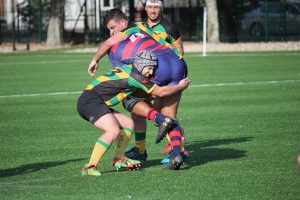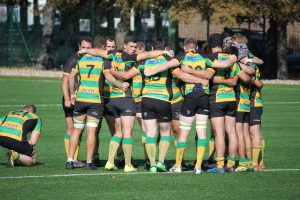 Winning the toss and kicking off, the Eagles started with sheer intensity applying the pressure from the get go.
The opposition scrum looking quite large compared to Eagles, who managed to hold them up in a well fought battle between the forwards. First points coming Eagles way with Sam Manning kicking over for 3 points after 10 minutes. With both teams playing an expansive attacking game on the fast surface, US Portsmouth got back into the game with some powerful running and offloads. The referee blowing up for hands in the ruck, Portsmouth's kicker stepping up and tying it up 3-3, 5 minutes later.
Eagles upped the intensity sitting in the oppositions half for 10 minutes and but not capitalising despite the territory advantage.
US Portsmouth came back strong from their half putting The Eagles on the back foot and forcing them to defend on the five meter line. Sam Maycock infringing and receiving a yellow for the team. Coach, Dan Leek joining the field in the front row and Eagles dropping a man.  Almost immediately afterwards (no more than 30 sec), another Eagles player, Matt Manning, was sent to the sidelines. Eagles now down to thirteen men.
The thirteen players left on the pitch played with determination and heart and did not allow US Portsmouth to score, and also succeeded in turning the ball over and pressing back into the opposition half.
Half time score 3-3.
Eagles coach Dan Leek had a few words of encouragement during the huddle which showed as the second half started with some slick passing and the first try, Charlie Blunt going over, and Sam Manning converting 3-10. With the full compliment of players returning to the pitch
US Portsmouth looked to kick over the top looking for territory, Sam Manning catching and releasing the ball to Joe Graves who linked up with Joe Trigaart. Joe switching on the afterburners and scoring, 3-17. With Eagles switching up a gear, some of the US Portsmouth players showing signed of feeling the heat. Another piece of great interplay with the forwards turning over ball and releasing a counter attack through the back-line, Rich Smith smashing through the defense to add more on the scoreboard. 3-24.
With only 5 minutes left, Eagles did not let up on attack, again putting US Portsmouth on the back foot. Tom Hughes carrying well and smashing his way through to score.
Final score 3-31.
What a great result from some hard pre-season training and great team spirit. The coach ride back to the nest was in high spirits and rightly so!
Eagles win (and with a bonus point)!
Special thanks to debutant Joe Graves and for Malcolm for taking match photos that will be posted up soon, and for those who came down to support.
Well done lads. #WeAreEagles
---
United Services Portsmouth
Details
| Date | Time | League | Season | Full Time |
| --- | --- | --- | --- | --- |
| 14/09/2019 | 3:00 pm | London 3 South West | 2019-2020 | 80' |
Results
| | | | | | |
| --- | --- | --- | --- | --- | --- |
| United Services Portsmouth | 0 | — | — | 3 | Loss |
| Eagles Senior 1XV | 4 | 4 | 1 | 31 | Win |